In the Dark was the first Gold Orchid eBook I chose to read. The novella attracted me above all others due to its noir-esque mystery plot. As a fan of classic films and the noir genre in general, I was particularly drawn to the book's storyline, which sounded like something straight out of a sultry 1940's film noir.
Though I expected to enjoy In the Dark, I began reading with tempered expectations. One never knows exactly what to expect from a new author, after all. I was pleasantly surprised, however, to find that the novella far exceeded my expectations!
Key is a superb author. Going into the book, I was most concerned about the way the plot would be rendered. I've never written a mystery story myself, as I imagine it must take a great deal of effort to construct an airtight murder mystery plot. Key, however, does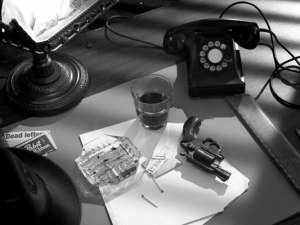 a marvelous job of presenting his readers with a wide array of characters, all of whom have a motive for killing heiress Dora Parkhurst's father. The most fascinating of these characters, in my opinion, was Mr. Lancelot "Lance" Gray, a dapper, brawny gent with a big personality and an even bigger secret. I also loved the author's use of Detective Palmer's ex, Donna, as an unofficial criminal psychologist. Donna highlights the psychology of abuse throughout the novella, providing a uniquely intelligent and compassionate look at the story's characters. Key deftly handles complex and sensitive topics in a mature and sympathetic manner, deeply enriching his narrative whilst furthering the story's plot.
I personally loved the old-school mystery feel of Key's story. Save for a few cultural references, the narrative could easily have been set in the 1940's. I do feel that the author's references to the noir genre throughout the book were unnecessary, but simply because the noir atmosphere was already so readily depicted; why restate the obvious?!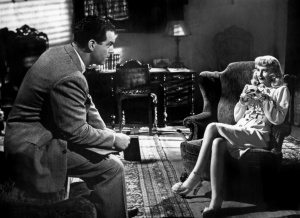 In the Dark is a definite page-turner and its plot never seems to lag. The work engrossed me so deeply that I finished the book in a single sitting! That's how interesting In the Dark is. I was sad to finish the book after only three hours of reading, as I wish it had been even longer! A handful of surprising plot-twists left me enjoying every chapter of Key's novella. I was wondering "Whodunit?" until the novella's final pages.
All in all, I found Key's work to be excellent and attention-grabbing. This is the perfect novella for a relaxing evening of reading. As with any novel, I do see some room for improvement. Key is a natural when it comes to plotting his work and writing realistic dialogue, two tasks which challenge many authors. Sometimes, however, his descriptive texts fell prey to clunky phrasing. Occasionally, I felt as though contractions would have improved the text flow as well. These difficulties, however, seemed only a blip on the radar compared to the novella's distinctive plot developments and unforgettable ending.
If you're a fan of mystery novels and the psychology of crime, I definitely recommend James Key's In the Dark. This noir-esque eBook is a novella you'll never forget.
Overall rating: 8.5/10
Purchase In the Dark on Amazon
This guest post was written by Kara Kitze, Gold Orchid Publishing's Blog and Social Media Assistant.